Adding a well-designed lighting system is one of the easiest ways to enhance the look and feel of any landscape or outdoor living area.
Landscape lighting shouldn't be limited to just residential front or backyards. Lighting is a must for entryways and common areas within residential communities and a variety of commercial applications. ISS is your one-stop source for all of your outdoor lighting needs. We carry a full line of fixtures, transformers, and home automation accessories from the most trusted brands to ensure your lighting project is a success. Our featured brands include Alliance Outdoor Lighting, FX Luminaire, Unique Lighting Systems, Kichler, and many more.
We carry a full offering of fixtures in all shapes, sizes, materials, and finishes to satisfy any style. Our stores have a complete inventory of up lights, downlights, path lights, floodlights, step lights, hardscape lights, and more. ISS has you covered with a full array of specialty lights as well including, BBQ lights, rope/tape lights, putting green lights, and bistro lighting. We also carry a complete inventory of LED bulbs in a variety of color temperatures, lumen outputs, and beam spreads. In a world where everything seems to be "smart," even landscape lighting fixtures and bulbs are keeping up with technology. We now offer fixtures and retrofit LED's that offer color changing options and are controllable via Bluetooth or Wi-Fi.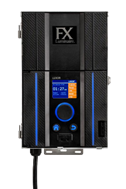 Whether your project calls for a traditional transformer or an intelligent transformer with the latest technology, ISS has you covered. Transformer technology has come along way from simple on/off control. We carry transformers that have both Bluetooth and Wi-Fi connectivity, the ability to dim and create zones and scenes with color-changing functionality. Many of these intelligent transformers can be integrated with existing home automation systems as well.
Are you new to landscape lighting? Are you looking for the latest product and technology information? Ask your sales or customer service representative for local training opportunities. Our knowledgeable staff is always available to help and can even assist with coordinating on-site demos.
Imperial Sprinkler Supply carries a complete line of energy-saving LED light fixtures and bulbs, as well as, landscape lighting transformers and fixtures that utilize Wi-Fi or Bluetooth technology and can easily be integrated into any smart home. Alexa and Google Home integration is also possible with the specific products we offer. Contact any ISS location or Customer Service for details.
Check out our Products! Click on the button at the right side!